I was undressed and my genitals exposed — Stella Nyanzi narrates horrible prison experience
A maximum prison is definitely one of the worst life nightmares to ever experience. Dr. Stella Nyanzi, who expresses deep gratitude for the new wave of freedom and those who stood by her side, has revealed the horrible experiences she went through in her 33-day long remand.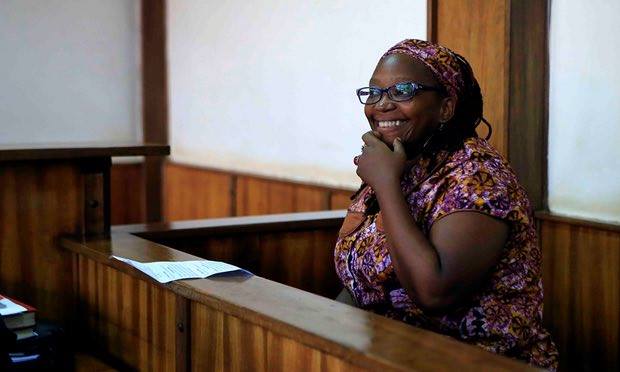 Of course it is not exhausting. She gave a sneak peep into the daily life at the prison. She revealed among other experiences that she was undressed.



"What a delight to be out of the ugly belly of the state's brutality! Luzira Women's Prison will forever hold a dear place in my heart. I made friends with prisoners. Thirty-three days of wearing the sickening yellow uniform, sleeping on a thin mattress spread on the cement floor – alongside sixty other in-mates in my ward, squatting in mock respect of underpaid prison warders, running to be locked up for 'Foleni' counts, undressing for body searches exposing my genitals to the prying eyes of warders, the nightmare of shitting in a flooding pit latrine, surveillance, interrogation, the works…
I am glad to be home with family and friends who love me. I am loved. I am grateful to be loved. All the days I was locked up in Uganda's beastly prison, I was upheld by love from near and far. I thank you all for the love. Freedom smells lovely when among loved ones.
My lawyers and legal team kept my winning spirit up. My sureties restored my hope in humanity. All my visitors in prison inspired me not to give up. The public press media and the social media fraternities kept the fire burning. Human rights activists, feminists, queers, journalists, cartoonists, comedians, musicians, artists, scholars, researchers, foreign missions, and all my allies who stood tall and proud in solidarity with me, I thank you", she posted on Facebook.

--

Gwokto La'Kitgum
----------------------------------------------------------------
"Even a small dog can piss on a tall building" Jim Hightower
--
Disclaimer:Everyone posting to this Forum bears the sole responsibility for any legal consequences of his or her postings, and hence statements and facts must be presented responsibly. Your continued membership signifies that you agree to this disclaimer and pledge to abide by our Rules and Guidelines.To unsubscribe from this group, send email to: ugandans-at-heart+unsubscribe@googlegroups.com