http://www.independent.co.uk/news/world/americas/us-air-strike-mosul-200-civilians-killed-isis-northern-iraq-pentagon-central-command-islamic-state-a7651451.html
US admits it conducted Mosul air strike 'at location' where '200' civilians died
Iraqi Vice President called the air strike a 'humanitarian disaster'
Click to follow
The Independent US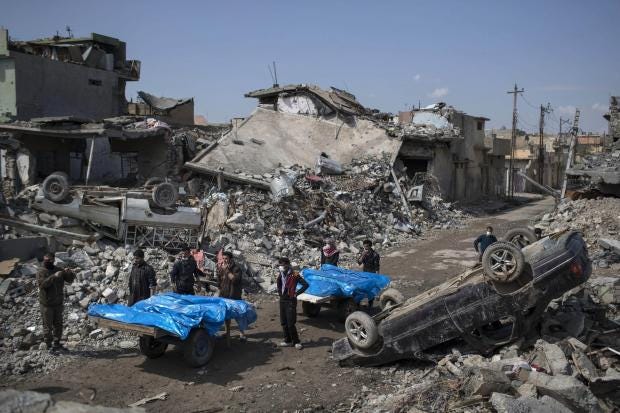 Amid the aftermath of a terrorist attack on the UK's Parliament, which killed four people including a police officer, another mass casualty further afield has been buried in the headlines.
Over the weekend the US Pentagon has admitted to another air strike in Mosul, which is believed to have killed more than 200 civilians including women and children.
It has been described as a "humanitarian disaster" by Iraqi Vice President Osama Nujaifi, and United Nations officials said they were "profoundly concerned" by the attack.
The Pentagon released a statement, saying it had targeted Isis fighters and equipment "at the location corresponding to allegations of civilian casualties".
"The coalition respects human life, which is why we are assisting our Iraqi partner forces in their effort to liberate their lands from ISIS brutality."
If the US is found to be responsible, it will be the deadliest such attack in three years.
The Pentagon has admitted to killing 220 civilians in Iraq and Syria since mid-2014, yet independent monitoring groups such as Airwars.org in London say the number could be closer to 3,000.
--
Allaah gives the best to those who leave the choice to Him."And if Allah touches you with harm, none can remove it but He, and if He touches you with good, then He is Able to do all things." (6:17)

--
Disclaimer:Everyone posting to this Forum bears the sole responsibility for any legal consequences of his or her postings, and hence statements and facts must be presented responsibly. Your continued membership signifies that you agree to this disclaimer and pledge to abide by our Rules and Guidelines.To unsubscribe from this group, send email to: ugandans-at-heart+unsubscribe@googlegroups.com