Moses Moses,
As a boxing enthusiast and historian, what do you make of the comeback of these boxing dinosaurs?  At a combined age of 105, they make 95 year old Comrade Robert Mugabe at 95,and Kayibanda Two Buttocks Museveni at 90, look like spring chickens!! The question I ask is: Are The Queensburry Rules going to apply in this grotesque eyesore?
Precisely, how many rounds will there be, and how long will each last? Not 12 rounds of three minutes each I hope?
For those who dont know, Nigel Benn and Steve Collins are the royalty of British Boxing. Together with the flamboyant Chris Eubank, the three dominated British Boxing in the late 80s early 90s and put up some of the most memorable fights these islands have ever seen. They are the equivalent of the golden era in American boxing which composed the Mohammed Ali- Joe Frazier- George Foreman triumvirate and,later the  Sugar Ray Leonard- Tommy Hitman  Hearns and Marvin Hagler middleweight contests that epitomised boxing as a great spectator sport, a far cry from what it is today.
But why should these great fighters come back? I am told it is the lure of a final pay day of a reputed £5 million each- not small change in these days of austerity in the UK. But what is in it for the boxing afficionados like your good self? I fail to see it.
 Well, they say the last thing a boxer loses is his punch. May be the two gladiators will prove this saying right by producing a one punch spectacle!!! But I am not betting on it, although I may go and watch it if you pay for me.
Bobby
Nigel Benn and Steve Collins agree to come out of retirement for rematch despite both being over 50
The duo have not fought since the 1990s with Benn retiring from the sport following his defeat to the Dubliner in 1996
Click to follow
The Independent Online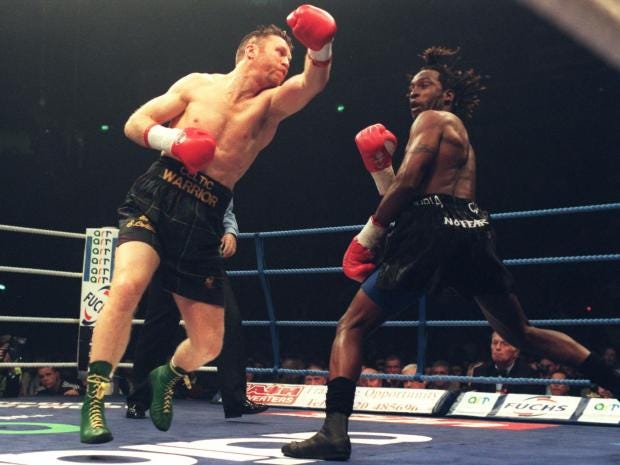 --
Disclaimer:Everyone posting to this Forum bears the sole responsibility for any legal consequences of his or her postings, and hence statements and facts must be presented responsibly. Your continued membership signifies that you agree to this disclaimer and pledge to abide by our Rules and Guidelines.To unsubscribe from this group, send email to: ugandans-at-heart+unsubscribe@googlegroups.com