Police shooting dead  muslim terrorists who caused carnage at London Bridge last night.. This is what they should do to the remaining suspected  3000 muslim terrorists on the  Terror Watch List. They must show no mercy whatsover. These muslim killers are not human beings and should be treated like the wild animals they are. They are scum of the earth. Without cold-hearted ruthlessness, we will never be able to get rid of the cancer of Islam.
Bobby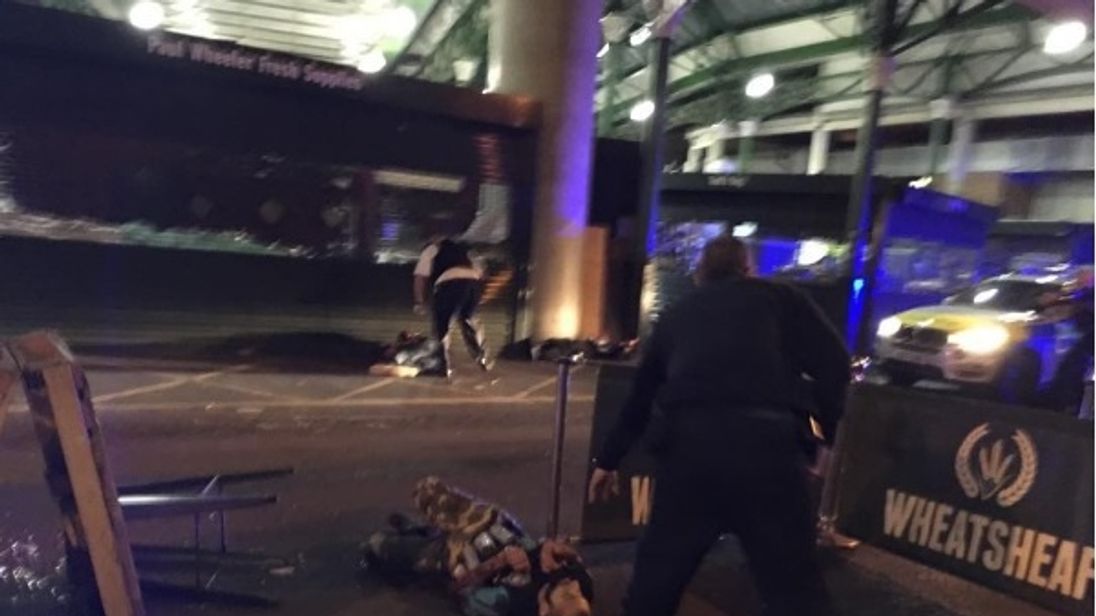 A dramatic photo shows a man with canisters strapped to his body lying on the ground after the London Bridge terror attacks.
Police said three attackers jumped from a van that mowed down pedestrians near the bridge before stabbing a number of people with large knives.
Seven people were killed in the attack and at least 48 injured before the trio were shot dead in nearby Borough Market eight minutes after police were called.
:: Six dead in London van and knife terror attack
:: LIVE: Latest updates on London Bridge terror
The photo, taken outside the Wheatsheaf pub in Borough Market, shows a man wearing camouflage trousers and with some kind of device attached to his torso on the ground.
Police said the attackers were wearing suspected suicide vests, which were later found to be fake.
It is unclear whether a second person lying further from the camera is a victim of the attack or a suspect.
Police said the attack lasted around eight minutes but further inquiries were needed before they could say there were no other suspects on the loose.
Assistant Commissioner Mark Rowley said: "Armed officers responded very quickly and bravely, confronting three male suspects who were shot and killed in Borough Market.
"The suspects were wearing what looked like explosive vests but these were later established to be hoaxes."
He added: "We believe three people were involved but we still have some more inquiries to be 100% confident of that."
--
Disclaimer:Everyone posting to this Forum bears the sole responsibility for any legal consequences of his or her postings, and hence statements and facts must be presented responsibly. Your continued membership signifies that you agree to this disclaimer and pledge to abide by our Rules and Guidelines.To unsubscribe from this group, send email to: ugandans-at-heart+unsubscribe@googlegroups.com