Trump Sued By 200 Lawyers Over Foreign Business Dealings
by and
Lawsuit says Trump has run afoul of constitutional limits

Blumenthal, Conyers lead latest Democratic shot at Trump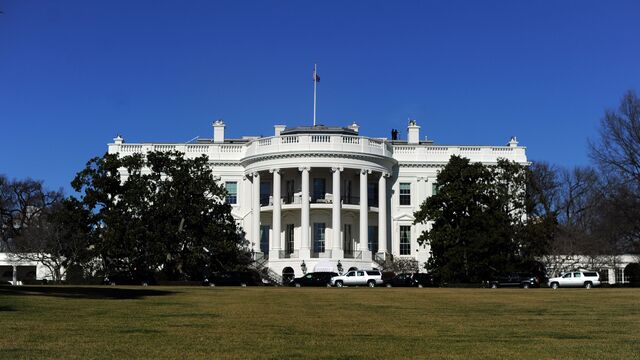 A group of almost 200 Democratic lawmakers sued to block President Donald Trump from taking any money from foreign states at his global businesses without getting Congressional approval first, claiming his acceptance of such benefits violates the Constitution.
It's the latest shot at the Trump administration from Democrats on Capitol Hill, who on Tuesday pressed his Attorney General Jeff Sessions for information about his role in the probe into the Trump campaign's links to Russia. It's an issue the Democrats also brought up in the lawsuit.
As Trump "decides how to shape U.S. policy toward Russia, he may be influenced by his long-standing, though yet unrealized, desire to build housing and hotels in Russia," the Democrats said.
Trump has stepped down from running his $3 billion empire but retained his ownership interests, a decision the lawmakers say violates the Foreign Emoluments clause in the U.S. Constitution that forbids the president from receiving payments or gifts from foreign governments without Congress's approval.
The lawsuit lists a slew of such alleged benefits that the president has already received, including China's approvals of Trump-business-related trademarks in the country, payments for hotel rooms and events and payments he gets from leases at Trump Tower, whose tenants include the Industrial and Commercial Bank of China and the Abu Dhabi Tourism & Culture Authority, both of which are government-owned.
For More on the U.S. Position, click here
A White House official said Trump's business interests don't violate the constitutional clause and called the lawsuit politically motivated. The White House will review the complaint, but the official, who asked not to be named, said officials expect the Department of Justice will ask the judge to throw it out.
In a similar lawsuit filed in January by a Washington government-watchdog group, lawyers for the Justice Department said history shows the emoluments clause doesn't apply to fair-market transactions, including hotel bills, golf club fees and office rents, like those in which Trump is engaged. The government's response to that lawsuit cited business activity with foreign countries by presidents going back to George Washington.
"My skepticism borders on disbelief," said Jonathan Turley, a professor at George Washington University Law School who has argued that Congress should have a greater right to sue over constitutional questions than courts generally allow. He also represented House Republicans in a lawsuit against President Barack Obama's signature health-care law.
The fact that Congress hasn't attempted to get information on the alleged emoluments "dramatically undermines the legal action," Turley said. "This is off-the-map in terms of a legally cognizable claim."
Precedent generally holds that individual legislators can't sue to enforce a law unless they've somehow been deprived of a vote. The Democrats say that's happened because Trump failed to seek Congressional approval to keep the foreign payments.
Courts have rarely had the opportunity to define emoluments -- a key question in the debate over whether any aspect of Trump's businesses activities might constitute violation of the clause.
For a Q&A on Emoluments, click here
Maryland and the District of Columbia sued earlier this week, claiming the president is violating both foreign and domestic emoluments clauses of the constitution with his businesses benefiting from his position.
The Democrats claim in their lawsuit that Trump's refusal to release his tax returns -- he's the first president in 40 years not to have done that -- and the complicated interconnections between the hundreds of business entities and shell companies in which he has a stake "makes it impossible to determine the full scope of the benefits he is currently accepting from foreign states."
Tax Returns
If the lawsuit is allowed to proceed, the Democrats would likely press for the release of those returns as part of a document exchange ahead of trial.
Connecticut Senator Richard Blumenthal and Michigan Representative John Conyers led the lawsuit, backed by 29 other senators and 165 House members.
The Constitutional Accountability Center, a think tank and law firm "dedicated to fulfilling the progressive promise of our Constitution's text and history," represents the Democrats in court.
Trump has put his assets in a trust and put his two oldest sons in charge, but he has retained an ownership stake, prompting an outcry from the director of the Office of Government Ethics. Walter Shaub Jr. called the move "meaningless."
Trump's family business had said it would donate any profit derived from foreign government sources to the U.S. Treasury, but softened that pledge last month when it said it'll just estimate the profit its hotels earn from foreign governments.
The company said in a pamphlet shared with members of Congress that its effort might not capture every dollar spent by foreign officials at Trump's hotels because looking into all patrons' backgrounds would invade their privacy.
The Democrats' complaint lists examples of several former presidents, including Abraham Lincoln, John F. Kennedy and Barack Obama, who took steps to comply with the Emoluments Clause. In the case of Kennedy, he declined to accept the honor of Irish citizenship in 1963 from the government of Ireland.
The Democrats also noted cases in which the activities of U.S. government employees or retirees were found to have fallen within the scope of the clause, including 'a NASA employee's receipt of a $150 consulting fee for reviewing a Ph.D. thesis' and 'a gift of photographs to U.S. military and civilian officers by a foreign prince."
The case is Blumenthal v. Trump, 17-cv--01154, U.S. District Court, District of Columbia (Washington).

--

Gwokto La'Kitgum
----------------------------------------------------------------
"Even a small dog can piss on a tall building" Jim Hightower
--
Disclaimer:Everyone posting to this Forum bears the sole responsibility for any legal consequences of his or her postings, and hence statements and facts must be presented responsibly. Your continued membership signifies that you agree to this disclaimer and pledge to abide by our Rules and Guidelines.To unsubscribe from this group, send email to: ugandans-at-heart+unsubscribe@googlegroups.com