Kenyan election official found dead days before national vote
Electoral commission chairman says Christopher Msando, who was missing for three days, may have been murdered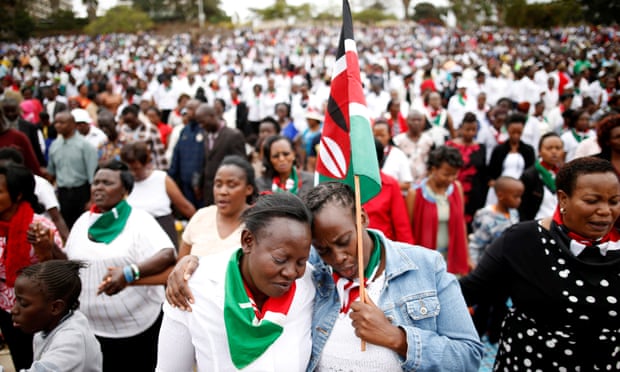 Electoral commission chairman says Christopher Msando, who was missing for three days, may have been murdered
A senior Kenyan election official has been found dead three days after he went missing, prompting fears of potential disruption in national elections in August.
The chairman of Kenya's electoral commission said he had helped identify the body of Christopher Msando at the city morgue, adding that it appeared to be a murder because of injuries to his neck and head.
Msando was the head of information, communication and technology for the electoral board, in charge of managing information technology systems.
Wafula Chebukati, the electoral commission chairman, said he was crucial to the running of the vote scheduled for 8 August. Kenya will be using biometric technology to identify voters and electronic transmission of results, which reduces the chances of fraud.
The opposition has accused the president, Uhuru Kenyatta, of wanting to rig the elections, which his office has denied.
Analysts have warned that violence could mar the vote, in which Kenyatta is running again.

--

Gwokto La'Kitgum
----------------------------------------------------------------
"Even a small dog can piss on a tall building" Jim Hightower
--
Disclaimer:Everyone posting to this Forum bears the sole responsibility for any legal consequences of his or her postings, and hence statements and facts must be presented responsibly. Your continued membership signifies that you agree to this disclaimer and pledge to abide by our Rules and Guidelines.To unsubscribe from this group, send email to: ugandans-at-heart+unsubscribe@googlegroups.com