Afuwa Kasule/ Frank Mujabi/ Mayimuna
Do you remember when Afuwa claimed here on this forum that it was the Israeli Mossad that destroyed the Timbuktu Ancient sites and libraries because it wanted to destroy "Islamic Tourism"? Well stories like this one here will continue to haunt Afuwa. But to be kind to Afuwa, I later traced this absurd story which she posted under own name, and discovered she was not the author- she picked the article from a fundamentalist muslim forum and reposted it here as her own. Thats why I continue to advise Afuwa never to carry other people's crosses. Let people be responsible for their own lies or concoctions.
Bobby
Mali jihadist faces war crimes charges at International Criminal Court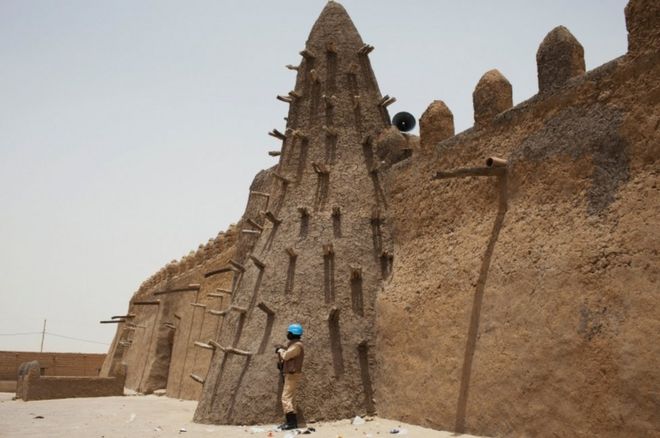 The International Criminal Court in the Hague has taken into custody a man wanted for war crimes in Mali, after the authorities there handed him over.
Al Hassan Ag Abdoul Aziz Ag Mohamed Ag Mahmoud headed the Islamic police in Timbuktu when it was under the control of jihadist militants five years ago.
He is accused of victimising women and girls by approving their forced marriages to Islamist fighters.
He is also alleged to have helped destroy ancient mausoleums in Timbuktu.
The arrest warrant for Mr Al Hassan listed crimes against humanity including "torture, rape and sexual slavery; persecution of the inhabitants of Timbuktu on religious and gender grounds; and other inhumane acts".
The only other man tried by the ICC over Mali's conflict admitted destroying cultural sites in Timbuktu at a landmark trial in 2016.
What happened at the previous trial?
Ahmad al-Faqi al-Mahdi pleaded guilty to destroying nine mausoleums and a mosque, in the first case of cultural desecration heard by the ICC.
It was the first time a suspected Islamist militant had stood trial at the war crimes court, and the first time a suspect had pleaded guilty.
Prosecutors said Mahdi was a member of Ansar Dine, an Islamist group that occupied Timbuktu for months.
He was jailed for nine years, after declaring he was "really sorry" for his actions and asking for forgiveness. In 2017 ICC judges found him liable for nearly €3m (£2.6m; $3,6m) in damages.
There is a chance he could now testify as a witness against Mr Hassan, Reuters news agency reports.
Mr Hassan's initial court appearance is scheduled for next week but he will not be required to enter a plea.
--
Disclaimer:Everyone posting to this Forum bears the sole responsibility for any legal consequences of his or her postings, and hence statements and facts must be presented responsibly. Your continued membership signifies that you agree to this disclaimer and pledge to abide by our Rules and Guidelines.To unsubscribe from this group, send email to: ugandans-at-heart+unsubscribe@googlegroups.com