Cavendish university employee drugged by blind date, left unconscious and robbed clean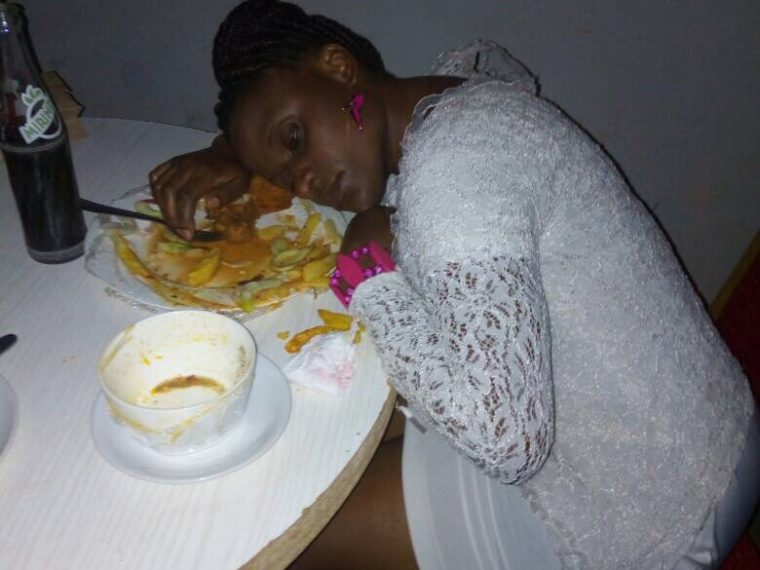 Makerere's Kikoni is in the spot for crime news once again. Yesterday night, a lady identified as Grace Kabahweza (alleged daughter to a MAK lecturer) was robbed clean and left lying in a plate of fries at Grand Global Hotel.
How it happened
Clad in a white tight short dress, Kabahweza stepped out to meet her anonymous blind date for dinner- little did she know she'd been chatting, sending selfies to a dude with wrong motives. Weeks of chatting and earning his trust, Kabahweza stepped out to meet this charming sweet dude who'd later turn out to be a thief. Appointment was made and they agreed to meet at a hotel in Kikoni.
Sources have it that all the pleasantries went on, beer bottles were ordered, plates of chips, chicken and bowls of soup flew in.  All seemed to be going on well until Kabahweza's head started taking dizziness rounds, her eyes started seeing blurred pictures and in no minute her head landed in the plate of food she was crashing.
It's at this moment that the anonymous date took off with Kabahweza's purse including her smart phone, money leaving her with just an ID for easy identification.
The waiters on realizing an unusual doze off on the table, they helped off the table onto the ground but she was too weak to understand a thing. The Kikoni A police station that's near the hotel was contacted and an ambulance that drove her to Nsambya hospital was called. All this happened at around 11pm last night. According to eye witnesses, the suspected thief might have intoxicated the victim with chemicals like Diazepam  to make her  unconscious and achieve his goals. It is, however, not clear how Kabahweza's date drugged her.
According to Kabahweza's AAR HEALTH SERVICES card, she is an employee at Cavendish University and whoever has any clues relating to the incident should contact police and help in the investigations.

--

Gwokto La'Kitgum
----------------------------------------------------------------
"Even a small dog can piss on a tall building" Jim Hightower
--
Disclaimer:Everyone posting to this Forum bears the sole responsibility for any legal consequences of his or her postings, and hence statements and facts must be presented responsibly. Your continued membership signifies that you agree to this disclaimer and pledge to abide by our Rules and Guidelines.To unsubscribe from this group, send email to: ugandans-at-heart+unsubscribe@googlegroups.com