Egypt Coptic Christians killed in bus attack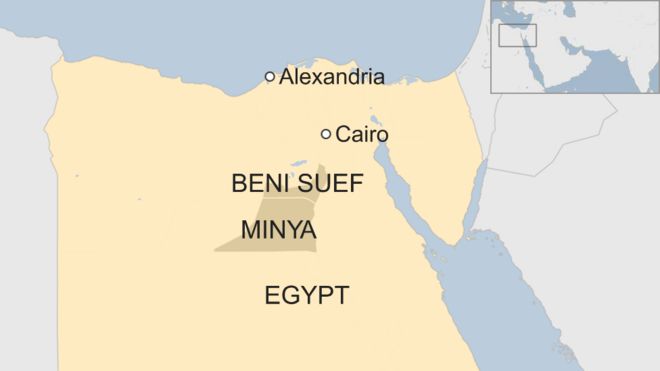 At least 23 people have been killed and 25 wounded after gunmen opened fire on a bus carrying Coptic Christians in central Egypt, state media report.
The incident occurred in Minya province, about 220km (140 miles) south of the capital Cairo, as the bus headed to the Monastery of St Samuel.
There have been a number of attacks on Copts in recent months claimed by Islamic State (IS) militants.
Two suicide bombings targeting churches on 9 April left 46 people dead.
The attacks prompted President Abdul Fattah al-Sisi to declare a nationwide state of emergency and promise to do whatever was necessary to confront jihadists.
---
What is the Coptic Christian faith?

The Coptic Orthodox Church is the main Christian Church in Egypt. While most Copts live in Egypt, the Church has about a million members outside the country.
Copts believe that their Church dates back to around 50 AD, when the Apostle Mark is said to have visited Egypt. The head of the Church is called the Pope and is considered to be the successor of St Mark.
This makes it one of the earliest Christian groups outside the Holy Land.
The Church separated from other Christian denominations at the Council of Chalcedon (451 AD) in a dispute over the human and divine nature of Jesus Christ.
The early Church suffered persecution under the Roman Empire, and there were intermittent persecutions after Egypt became a Muslim country. Many believe that continues to this day.
--
Disclaimer:Everyone posting to this Forum bears the sole responsibility for any legal consequences of his or her postings, and hence statements and facts must be presented responsibly. Your continued membership signifies that you agree to this disclaimer and pledge to abide by our Rules and Guidelines.To unsubscribe from this group, send email to: ugandans-at-heart+unsubscribe@googlegroups.com