Ramadan Day 11
Paris's Notre-Dame: Attacker shot outside cathedral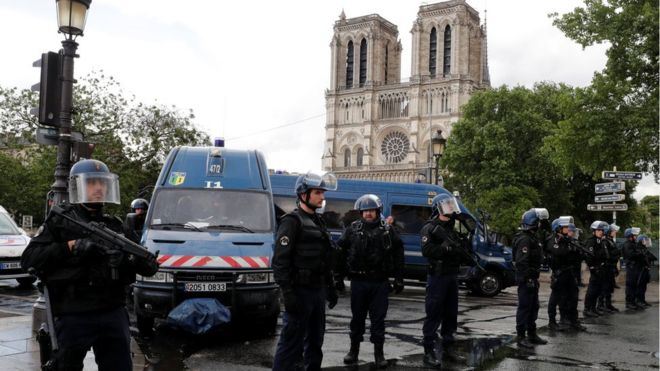 A man has been shot by police outside the Notre-Dame cathedral in Paris after he attacked an officer with a hammer, French police say.
The suspect was wounded in the chest while the officer has minor injuries, media report. Officials say this is a "terrorist incident".
Tourists fled for cover as the attack occurred. Hundreds of people were at the cathedral at the time.
France is in a state of emergency since attacks by jihadists in Paris in 2015.
On Tuesday afternoon, the suspect was shot by an officer after he attacked another policeman, media reports say. Anti-terrorist prosecutors have opened an investigation.
Paris police said on Twitter that the situation was "under control".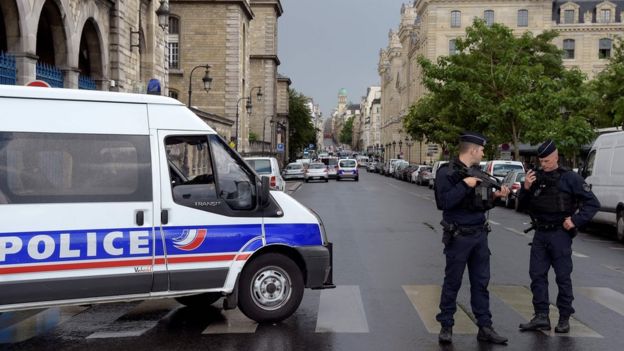 The area around the cathedral has been sealed off.
"I was about to come inside [the cathedral] and heard the noise, the gunshots, turned around and saw the assailant on the ground where they had shot him," said Kellyn Gorman, an American tourist.
"It was very safe, very quickly contained."
Notre-Dame is one of the most visited tourist sites in Paris. Last year, police foiled an attack near the site.
The incident comes just three days after militants used a van and knives in an attack in London which left seven dead.
---
Recent terror attacks in France
20 Apr 2017 - A convicted criminal who was investigated for threatening to kill police opens fire at police on the Champs Elysees in Paris, killing one and wounding two. He is shot dead - and the assault is claimed by IS.
3 Feb 2017 - A machete-wielding Egyptian man shouting "Allahu akbar" attacks French soldiers at Paris's Louvre Museum - he is shot and wounded.
26 Jul 2016 - Two attackers slits the throat of a priest at his church in Saint-Etienne-du-Rouvray, in Normandy. They are shot dead by police.
14 Jul 2016 - A huge lorry mows down a crowd of people on the Nice beachfront during Bastille Day celebrations, killing 86. IS claims the attack - by a Tunisian-born driver, later shot dead by police.
13 Jun 2016 -A knife-wielding jihadist kills a police officer and his partner at their home in Magnanville, west of Paris. He declares allegiance to IS, and police later kill him.
13 Nov 2015 - IS jihadists armed with bombs and assault rifles attack Paris, targeting the national stadium, cafes and Bataclan concert hall. The co-ordinated assault leaves 130 people dead, and more than 350 wounded.
7-9 Jan 2015 - Two Islamist gunmen storm the Paris offices of satirical magazine Charlie Hebdo, killing 17 people. Another Islamist militant kills a policewoman the next day and takes hostages at a Jewish supermarket in Paris. Four hostages are killed before police shoot the gunman dead. The other two gunmen are cornered and killed by police in a siege.
---
Are you in the Notre Dame area? Did you witness the events? You can share your experiences by emailing haveyoursay@bbc.co.uk.
If you are willing to speak further to a BBC journalist, please include a contact telephone number.
Email your pictures to yourpics@bbc.co.uk, upload them here, tweet them to @BBC_HaveYourSay or text 61124. If you are outside the UK, send them to the international number +44 7624 800 100 or WhatsApp us on +44 7525 900971.
Read our terms and conditions.
--
Disclaimer:Everyone posting to this Forum bears the sole responsibility for any legal consequences of his or her postings, and hence statements and facts must be presented responsibly. Your continued membership signifies that you agree to this disclaimer and pledge to abide by our Rules and Guidelines.To unsubscribe from this group, send email to: ugandans-at-heart+unsubscribe@googlegroups.com